We Offer 3D Design & Renderings in Ankeny, Johnston, Urbandale, IA & Nearby Communities
We provide visual representations for outdoor projects using 3D renderings.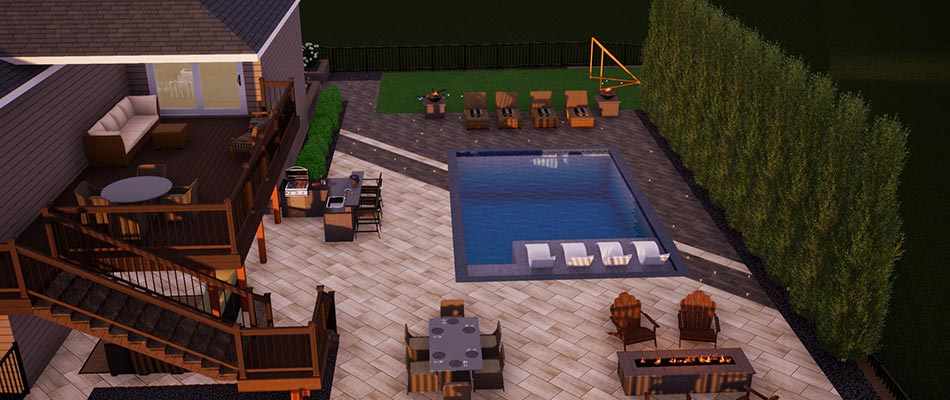 You may have ideas for your dream landscape already in mind, but it can be hard to envision how every detail of your future outdoor project will look without any visual representation. At ETCH Outdoor Living, we offer detailed 3D design renderings to show you what your project will look like before installation ever begins.
Each of our renderings includes realistic features and elements and provides vivid details using high-quality animation. We highly recommend 3D designs and renderings for large-scale projects so that there are no breakdowns in the communication of your vision. We offer this service to residential, commercial, and HOA properties in the Ankeny, IA area, and surrounding areas like Johnston and Urbandale.
---
Our 3D design renderings allow you to view your finished project before installation.
We use 3D design rendering software to build realistic displays of the outdoor projects that we create. These are incredibly beneficial because they will allow you to view what your finished landscape project will look like before installation ever begins. Our design process begins with exploring all the ideas that you have for your project. Once you've decided on what type of outdoor elements you would like to add to your property, we'll be able to incorporate them into a 3D design rendering.
The beauty of design renderings is that they can be changed! If at any point during the design phase you wish to make alterations, you will be able to. We keep a constant flow of communication throughout our design process to ensure that both you and our team are always on the same page. The installation process will also go a lot smoother since your ideas will already be solidified beforehand.
---
Our 3D design renderings include textural features, vivid details, and more.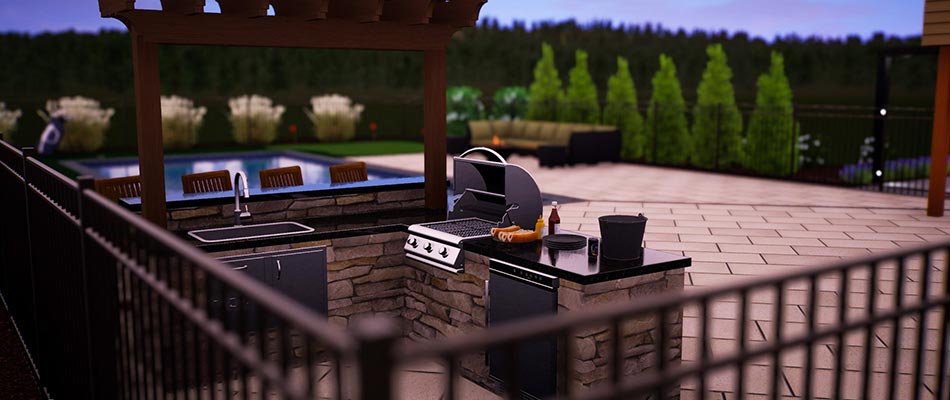 Our team can skillfully create an intuitive design of your project once you've settled on all of the details. When you select this service, our design team will work alongside you to cultivate a rendering that shows every aspect of your outdoor project. Our 3D renderings include textural features, color contrasting and composition, and vivid details, to provide you with a truly immersive experience.
---
Examples of Our 3D Landscape Design
---
3D design renderings are a must-have for large projects!
When it comes to large-scale projects, there are so many moving parts and decisions being made right from the beginning. 3D design renderings are a must-have because they help keep communication seamless for both you and our design and installation teams throughout the course of your project.
We want your experience to be phenomenal. However, the reality of large construction projects is that without a rendering in place to set the narrative, things may not turn out exactly as you envisioned. This is the last thing that we want to happen, which is why our company advocates the use of 3D designs and renderings!
We also offer 2D design renderings which are perfect for smaller projects.
---
Ready to begin your outdoor project? Call us today and take advantage of our 3D design renderings.
At ETCH Outdoor Living, a major focus of what we do is creating designs and renderings for our outdoor project installations. Our design team is highly qualified and can create 3D renderings out of any ideas you have for your future project. Our services are available in Ankeny, Johnston, Urbandale, and nearby areas in Iowa. Give us a call today at (515) 654-5447 to schedule.