We offer patio installation to properties in Ankeny, Johnston, Urbandale, IA and nearby areas.
Our team will collaborate with you to create a design for your new patio.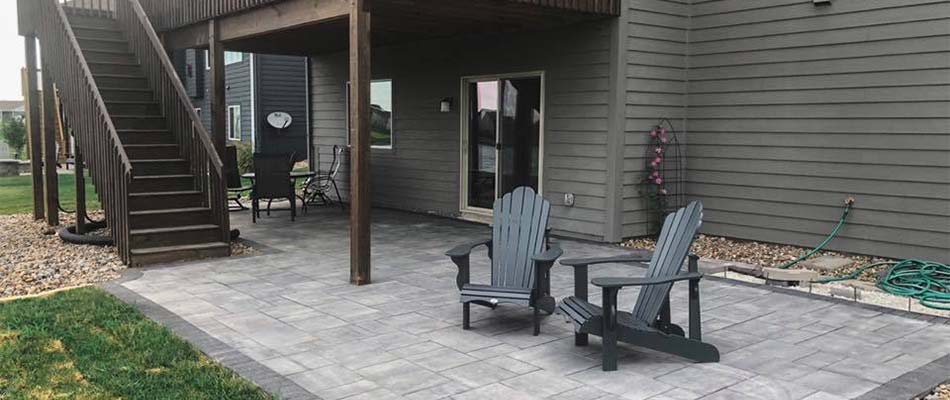 Our team at ETCH Outdoor Living provides an outstanding patio installation service that involves a meticulous process from design to installation. Your vision and goals are our priority, which is why we start by collaborating with you to create a patio design that will complement the aesthetics of your property.
Our patios are made from high-quality materials like pavers, natural stone, bricks, and more. If you have issues with grading on your property, you've got nothing to worry about because we will level the land first if needed. Whether you are a homeowner or business owner in Ankeny, Johnston, Urbandale, IA or nearby communities, our patio installation is available for you!
---
What materials do we use to build your patio?
At ETCH Outdoor Living, we want to make sure your patio will not only turn out beautiful but also withstand the elements in Iowa. That is why we use materials that are durable and aesthetically pleasing. Whether you want your patio to stand out in your outdoor living space or blend in with your property's aesthetics, we can make it happen.
Below are the material options that you can choose from to build your custom patio:
Pavers: The pavers we use offer limitless design options, so you'll be able to customize your patio to meet your specific preferences.
Poured Concrete: Whether you want stamped or stained concrete for your patio, our team can make it happen.
Natural Stone: Iowa Buff limestone, bluestone, travertine, coral stone, granite are examples of natural stone that we can install.
Bricks: Bricks come in different colors and shapes, which means there is an extensive list of design options for you.
Porcelain: The low-maintenance beauty of porcelain patios has an unmatched charm that will significantly improve your property's aesthetic.
We are the only certified Techo-Pro in Central Iowa, which means we are certified to install their pavers!
---
Our Patio Design & Installation Process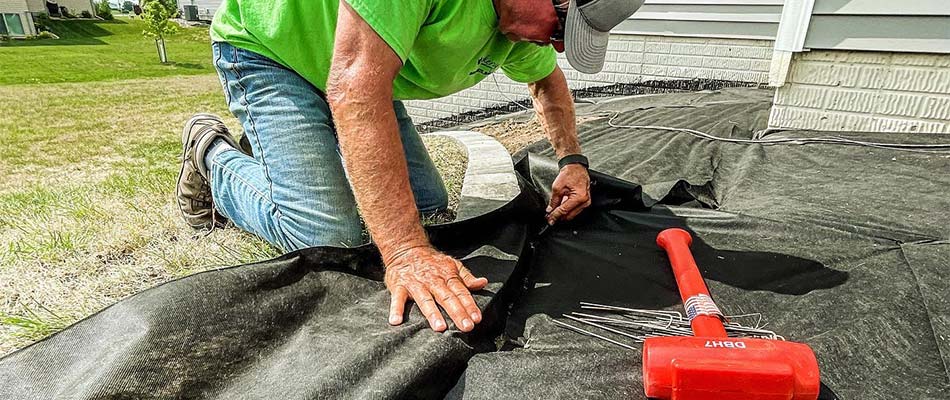 It is vital to our crew that the design of your patio is based on your style and preference. That is why before we lay any paver or brick, the first thing on our to-do list is to collaborate with you by discussing your vision and goals for your new patio. Once we have a grasp of what you want, our experts will create a design rendering to give you a sneak peek of what your new patio will look like.
After you've settled on all of the details, our team will start the patio installation process. We will work hard to ensure that your patio is installed correctly so that it looks absolutely perfect when it's completed.
---
Grading your property before your patio is installed prevents drainage issues.
Your patio will be one of the most used features in your outdoor living space, which is why it needs to be built on smooth and solid ground. At ETCH Outdoor Living, we deliver lasting results with our patio installation service by grading your property first if necessary. Grading levels the soil so your patio will not encounter drainage issues down the road.
---
Call our experts today to schedule our patio installation service!
At ETCH Outdoor Living, we can help you create an excellent outdoor living space with our patio installation service. Our crew provides our patio installation service to homes and businesses in Ankeny, Johnston, Urbandale, IA and nearby areas. Call us today at (515) 654-5447 to schedule!