We Install Retaining Walls in Ankeny, Johnston, Urbandale, IA & Neighboring Areas
We use blocks and stone veneers to create skillfully designed retaining walls.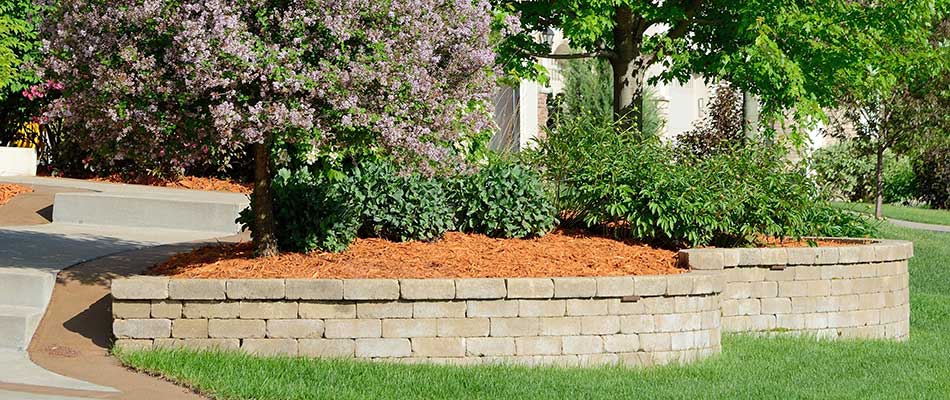 If your landscape is sloped and your property suffers from issues with soil erosion and drainage, then installing a professionally-made retaining wall is one of the best decisions that you can make for the overall functionality of your outdoor space. Not only will a new retaining wall add functionality to your property but it will also add a beautiful focal point, designed exactly to your liking. We use heavy-duty blocks and stone veneers to create our retaining walls.
You can work with our expert designers to completely customize your retaining wall so that it matches your style and the other features within your outdoor living space. Our services are available in Ankeny, IA, and in surrounding areas like Johnston and Urbandale.
---
We build our retaining walls using blocks and stone veneers.
Any good retaining wall should be built to be long-lasting. We build ours out of heavy-duty blocks to ensure that our clients are never left digging into their wallets to fix an issue caused by cheap materials. When you select our company to build your retaining wall, we make sure to do things right the first time! We choose to use blocks for all of our retaining walls because of their durability and ability to last for years to come.
We also offer the option to cover the blocks in stone veneers for decorative purposes. With stone veneers, you have some more design freedom to match your retaining wall perfectly to your preferred style and existing outdoor living space.
---
Fully customize your retaining wall with a raised planter bed or a patio!
Your retaining wall can be personalized with curvature and height, along with many other design options. Our team can help you decide the perfect solution for the new flat space that will be added to your property after a retaining wall is installed. One option is to add a beautiful raised planter bed full of vibrant plants and a ground cover. Another option is to add a custom-designed patio to the flat space along with other personalized elements such as a fire pit, outdoor lighting, and more. The choices are endless now that you have usable space on your property!
We can also create retaining walls that are multi-tiered!
---
Our retaining walls are built for both functionality and design.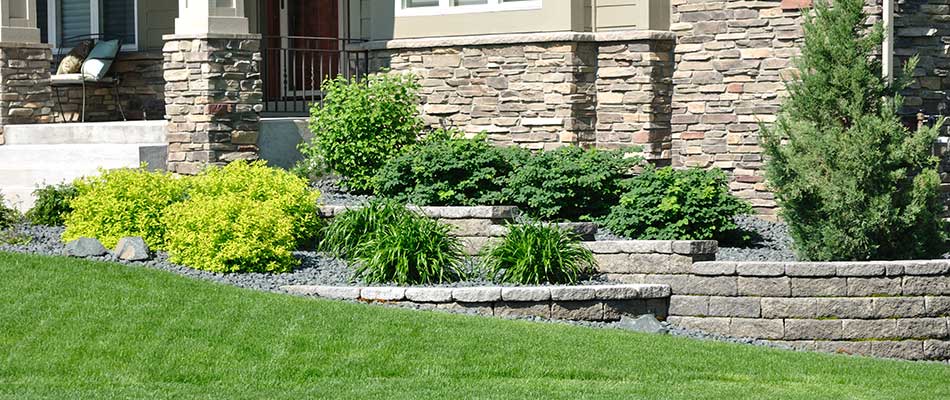 Retaining walls are distinctive and beautiful, but the main purpose of these structures is to limit soil erosion and help mitigate any drainage issues. They also help with flattening out space on your property that was once sloped and unusable! For these reasons, our retaining walls are extremely functional.
Not only will your drainage and soil erosion issues be solved, but our retaining walls are also built with skilled craftsmanship and can incorporate many different design elements to match your style. After all, a retaining wall is an extension of your property and should encompass all its unique characteristics while adding some character of its own to your landscape.
---
Call today to schedule our retaining wall installation service.
Say goodbye to sloped, unusable space and hello to your new custom retaining wall! We install custom retaining walls for clients in residential, commercial, and HOA communities in Iowa. Our services are available in Ankeny, Johnston, Urbandale, and in nearby areas. Give us a call today at (515) 654-5447 to schedule this service.