Commercial Landscape Maintenance Services in & Around Ankeny, Johnston & Urbandale, IA
Our maintenance services include lawn mowing, plant trimming and pruning, yard cleanups, and more!
If you're looking for top-quality landscape maintenance services to keep your commercial property neat and manicured, you've come to the right place! At ETCH Outdoor Living, we provide various landscape maintenance services to businesses in and around Ankeny, IA, including Johnston and Urbandale. Whether you need lawn mowing, plant trimming and pruning, or yard cleanups - we offer it all and more. Our crew will always adhere to our high-performance standards to ensure your business puts its best foot - or landscape - forward!
---
Our Commercial Landscape Maintenance Services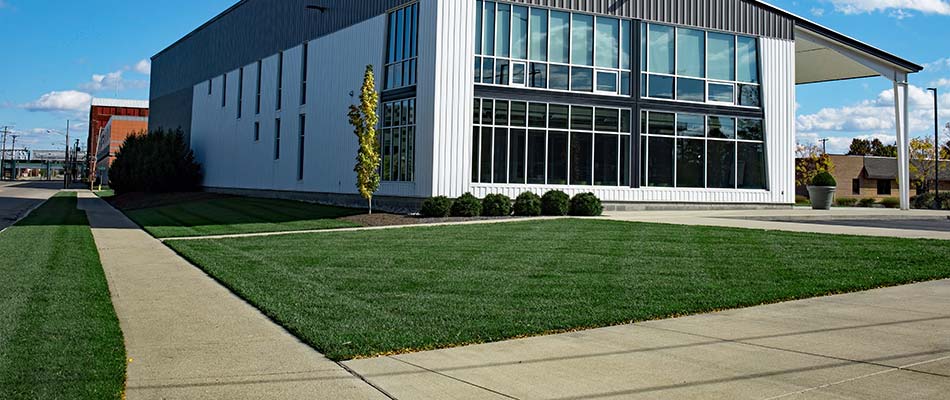 A neat and manicured landscape is every business owner's dream, as it presents a positive first impression with customers and increases your property's curb appeal. Fortunately, we're here to help with that! We provide various landscape maintenance services to commercial properties, including:
Lawn Mowing: We'll put your lawn on a mowing schedule to keep it at an ideal height throughout the growing season. We will also string-trim to reach areas the mower can't and create a crisp, clean-cut appearance by

edging along where the lawn meets hard surfaces, including sidewalks. Then, we'll clean up after ourselves by blowing debris off your hardscapes and back into the lawn.

Plant Trimming & Pruning: We offer spring and fall trimming services, and we'll trim any landscape plants, shrubs, and hedges on your commercial property. Trimming will enhance their natural shape and overall appearance, and we'll also selectively prune your plants to benefit their health. We'll only prune when it's the right time for your plants to avoid harming them.
Mulch & Rock Installation: We offer mulch and rock ground coverings, both of which make aesthetic additions to your landscape beds while providing health benefits to your plants. You can choose from our various rock options to satisfy your aesthetic preferences, including river rock, trap rock, and buckskin rock.

We also offer processed premium double-shredded dyed mulch, hardwood, cedar, and other natural mulches that come in black, dark brown, red, and gold color options to enhance your landscape's appearance.

One-Time Yard Cleanups: If your property is overgrown and unkempt, then our one-time yard cleanup service is for you! We will trim your plants and ornamental trees, hand-pull weeds, and add new mulch or rocks to your landscape beds.
Spring Yard Cleanups: We offer spring cleanups from when the snow melts through mid-May to spruce up your landscape beds in preparation for the new growing season. We will trim your shrubs, remove debris, install new mulch, and reshape your landscape beds if needed.
Fall Yard Cleanups: We can get your landscape ready for the winter season with our fall cleanup service,

which we offer from mid-October through the end of November.

We'll remove leaves and debris from your lawn and trim your shrubs.
Keep your business accessible during the wintertime with our snow removal and deicing services!
---
Sign up for our landscape maintenance services to keep your commercial property neat and manicured!
Nothing looks better to a customer than a neat and manicured landscape, and at ETCH Outdoor Living, we provide all the landscape maintenance services you need to enhance your business's curb appeal! Lawn mowing, plant trimming and pruning, and yard cleanups are some of the services we offer to commercial properties in Ankeny, Johnston, Urbandale, and other nearby areas in Iowa. You can call us at (515) 654-5447 to sign up for our commercial landscape maintenance services today!