Hi there! Welcome to ETCH Outdoor Living. We are a small business that's big on providing quality services and professionalism. Even though we first opened our doors in 2018, caring for lawns and landscapes has truly been a way of life for us. Our founder, Sam Rankin started working alongside his parents in the mowing industry at just 10 years old. This experience helped instill hard work and dedication into him at an early age.
In 2006, Sam ventured off into mowing lawns on his own and continued growing in his craft. In 2012, with the help of his parents, Sam started professionally mowing lawns with a used truck, small trailer, riding mower, and a dream. He also partnered up with his best friend Andrew Huseman and together, they took over one of the best neighborhoods in Ankeny, IA. With passion and a dedicated team of experts, ETCH Outdoor Living has grown into all it is today. Our mission is to provide exceptional lawn and landscaping services to all of our clients!
---
What Sets Us Apart
We are a small business that is dedicated to providing exceptional services with the utmost quality and professionalism. We set ourselves apart in this industry by our identity as a company. We are passionate and dedicated to success, and it's important to us that we offer friendly and professional services to our valued clients. No matter the size of your project, we will make sure that things are done right the first time!
---
Our Services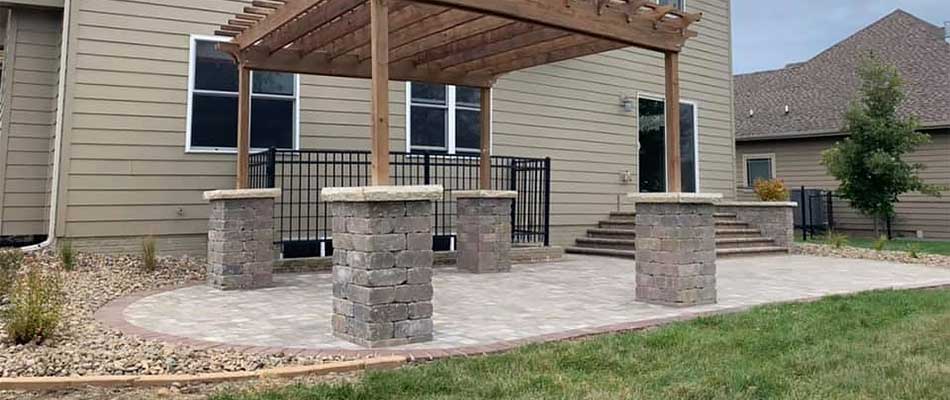 We've come a long way from just mowing lawns. Our company offers a wide range of lawn and landscaping services in our communities. Whatever you need from fertilization to outdoor lighting installation, you can be confident that our expert team can get the job done. Here are some of the services we offer:
Seating Walls
Walkways & Driveways
Outdoor Steps
Fireplaces
Outdoor Lighting
Water Features
Artificial Turf
Plantings & Renovations
Rock & Mulch
Trimming
Yard Cleanups
And much more!
We offer a 100% satisfaction weed control warranty. Still seeing weeds on your lawn? Just call us and we'll take care of the problem within 72 hours.
---
Call today for exceptional lawn and landscaping services.
If you are interested in cultivating the best lawn and landscape possible, then we are the company for you! We provide exceptional services in Ankeny, Johnston, Urbandale, and nearby areas in Iowa. Give us a call today at (515) 654-5447 to get started.