Overseeding Service in Ankeny, IA & Surrounding Areas Including Johnston and Urbandale
For optimum results, we recommend scheduling our overseeding service annually during the fall season.
If you're looking for a professional, high-quality company to overseed your lawn, you have found it! At ETCH Outdoor Living, we use treated, cool-season seeds that are perfect for the Ankeny, IA area, and we help them along with a boost from a starter fertilizer. We offer our overseeding service as an add-on to our core aeration service during the fall season and recommend overseeding your lawn yearly so that you can maintain a full, lush lawn.
Our overseeding service is offered to residential, commercial, and HOA property owners in Ankeny, IA, and surrounding areas including Johnston and Urbandale.
---
Our seeds yield fast and effective results.
Using the correct seeds based on our climate is crucial, and we know this! That's why our treated seed blend is composed of 50-50 Kentucky bluegrass and perennial rye. These are cool-season grass seeds that are popular in our area and will thrive in the Iowa weather. The best time to plant these seeds is during the fall season. The cooler weather will supply ideal conditions that encourage quicker germination at a higher rate - you'll have a full, thick lawn in no time with our seeds.
---
We follow our overseeding service with a starter fertilizer treatment.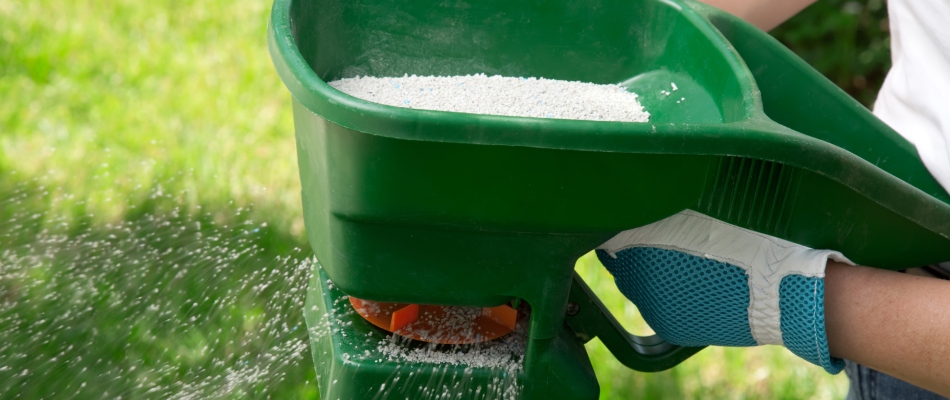 Our company offers high-quality services that will get the results you want. Our professionals are educated on the services we provide, and our overseeding service is no exception. To help the seeds grow into strong, healthy grass, we apply a starter fertilizer. The starter fertilizer treatment will supply the seedlings with essential nutrients that will promote the establishment of a strong root system and rapid growth. Our decision to apply a starter fertilizer is simple: we want you to see green, durable grass that you can be proud of.
---
We combine overseeding with aeration to give you the best results.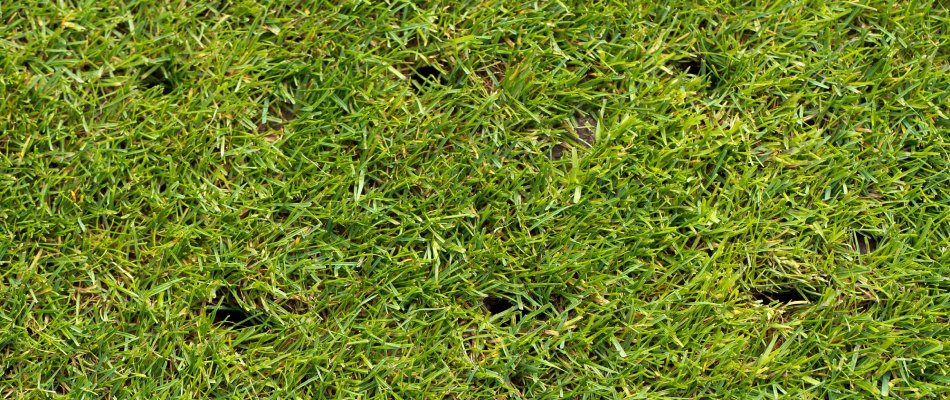 You want a lush healthy lawn, and we want to give you those results. To do this, we offer our overseeding service as an add-on to our core aeration service. Aeration will create holes in your soil that the new seeds can fall into, giving them direct access to perfect seed-to-soil contact. The seeds will then have optimum conditions to grow and establish their roots effectively.
Pairing aeration and overseeding will also give the seeds easier access to resources from the loosened soil, which will positively affect their ability to germinate. It's important to us that you get what you want from the service. We know that overseeding will yield the best results when it's paired with aeration, and your trust in us will not be misplaced.
We recommend aerating twice a year: once in the spring and once in the fall. Overseeding is scheduled directly after fall aeration.
---
Call Our Team to Overseed Your Lawn
Our expertise in the industry has awarded us many 5-star reviews, all of which are proof of the results our services provide. You can expect the same with our overseeding service! Our treated seeds, which are ideal for the Iowa weather, will thrive after fall aeration and the application of a starter fertilizer treatment. Before you know it, we'll have your lawn thick and lush with green grass.
We proudly serve residential, commercial, and HOA properties in and around Ankeny, IA, including Johnston and Urbandale. Give us a call at (515) 654-5447 to schedule our overseeding service and get the results you deserve!