Lawn & Landscaping Services for Properties in Grimes, IA
We offer our services to residential, commercial, and HOA properties in Grimes, IA.
Grimes, IA is a city in Dallas and Polk Counties and part of the Des Moines metropolitan area. The population in Grimes is nearing 17,000, and it's a great place for outdoorsy people; there are various parks to enjoy here, and it is close to Saylorville Lake, where you can camp, fish, kayak, and more!
Grimes is a beautiful place to live and work, and at ETCH Outdoor Living, we can enhance your property to reflect that. We provide lawn and landscaping services to residential, commercial, and HOA properties, including lawn care, landscaping, design and build, and pest control services!
---
Give Your Lawn Everything It Needs to Thrive With Our Lawn Care Services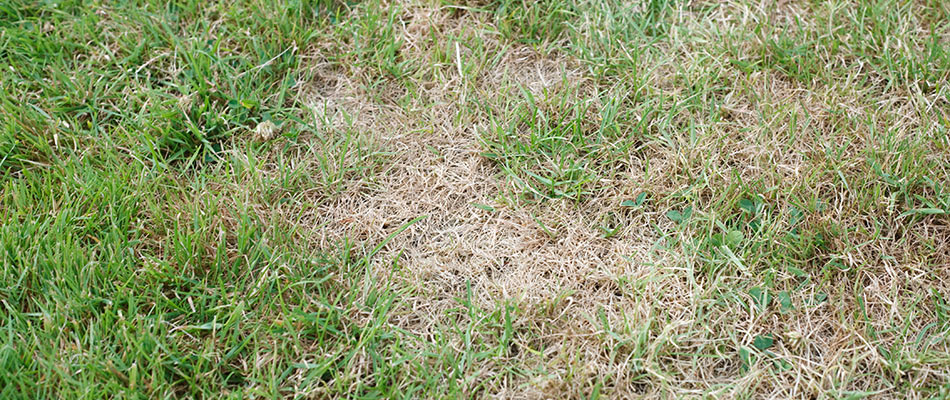 Your lawn needs routine care to stay green and healthy year-round, but you don't have to do it yourself! You can give your turf everything it needs to thrive with our lawn care services, including fertilization and weed control. Our program consists of six visits a year to apply our fertilization treatments. We also utilize both pre-emergent and post-emergent weed control treatments to eliminate pesky weeds from your lawn, such as creeping Charlie, foxtail, and clover. If you want to loosen compacted soil and fill in bare and patchy areas on your lawn, then our aeration and overseeding services are for you!
We offer preventative and curative treatments for lawn diseases, including brown patch and dollar spot. Similarly, we can also prevent or eliminate lawn insects from your lawn, such as armyworms and grubs.
---
We provide landscaping services to properties in Grimes, IA.
We provide landscaping services to increase the curb appeal of your property in Grimes, IA. We can spruce up your landscape's appearance so that it's well-maintained with our yard cleanups. We assist with overgrown properties, trimming and pruning your plants and ornamental trees, pulling weeds, and adding new mulch or rock ground coverings for your landscape beds. We also offer spring and fall cleanups: in the spring, we'll trim your shrubs, remove debris, install new mulch, and redefine your landscape beds. In the fall, we'll remove leaves and debris from your lawn and trim your shrubs.
We can install mulch or rock in your landscape beds to enhance their appearance and provide benefits to your plants, and we offer a plant trimming service to keep them neat and manicured. We can even take care of weeds with our landscape bed weed control service, where we'll spray any that we can't hand-pull. But wait, there's more we can do! We can plant beautiful new flowers and plants in your landscape beds or renovate your existing ones.
We offer commercial snow removal and lawn mowing services to keep your business accessible during the winter and your lawn well-maintained in the summer!
---
Enhance Your Outdoor Living Space With Our Design & Build Services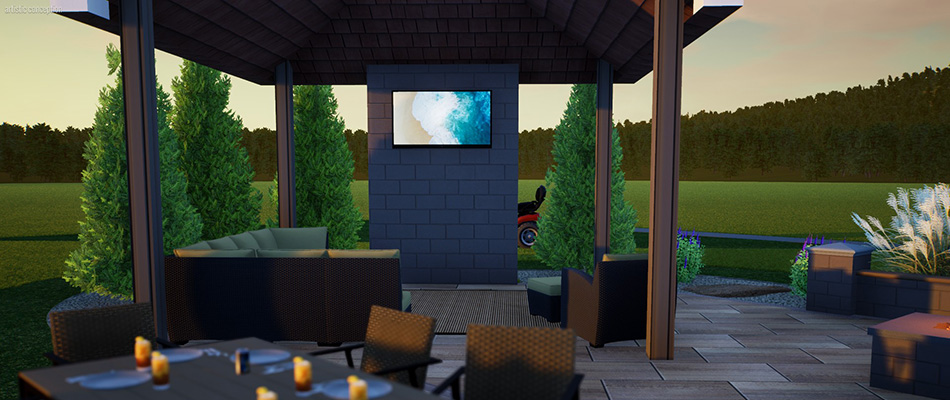 Hardscapes are a worthwhile investment for your property, increasing its value and enhancing your outdoor living space. Fortunately, we offer our services so you can design and build the feature you want on your property in Grimes, IA. We provide 3D design renderings for any of our hardscape projects - you'd have the chance to see how it'll look before installation begins!
We can build a fire pit or outdoor fireplace to provide cozy warmth on chilly nights, which can be wood, natural gas, or propane-burning. Then, you can cool off in the summer with a swimming pool! We can even install a pergola or pavilion so you can hang out by the pool in style.
We can build a custom outdoor kitchen unique to your property and add virtually any amenity - including cabinets, grills, wine coolers, and more! An outdoor kitchen isn't complete without a patio, where you can hang out and enjoy the delicious food you make. A seating wall will provide durable, built-in seating, while a retaining wall can be just as functional as it is decorative. We can also install a beautiful water feature that meets your needs and further enhances your outdoor living space.
We can make accessing different parts of your property easier with a walkway and outdoor steps! We can even build a new driveway to match. Don't limit your property's use to daytime only - we can install landscape lighting that accentuates your hardscapes and allows for nighttime use! Then, we can install holiday lights to bring festive cheer once the holiday season rolls around.
---
Protect your property from pesky insects with our pest control services!
Insects are nuisances that can disturb your peace and invade your property, but there's hope yet - with our pest control services! We can protect your inside space with our perimeter pest control treatments, which we spray 3 feet up the exterior wall of your home or business and 3 feet out from the foundation. This effective barrier will prevent pesky insects from entering, including ants, spiders, and more! We can also treat your property for fleas and ticks during their most active season, which will also help eliminate chiggers. We offer our mosquito control treatments on an as-needed basis or as part of your lawn care package, and we'll spray our effective product on your lawn to drastically reduce the mosquito population on your property.
---
Call Us to Sign Up for Our Lawn & Landscaping Services
Don't let your property fall to the wayside - keep it pristine with our lawn care, landscaping, design and build, and pest control services. At ETCH Outdoor Living, we take pride in offering top-quality services to residential, commercial, and HOA properties in Grimes, IA. Call us at (515) 654-5447 to sign up for any of our lawn and landscaping services!