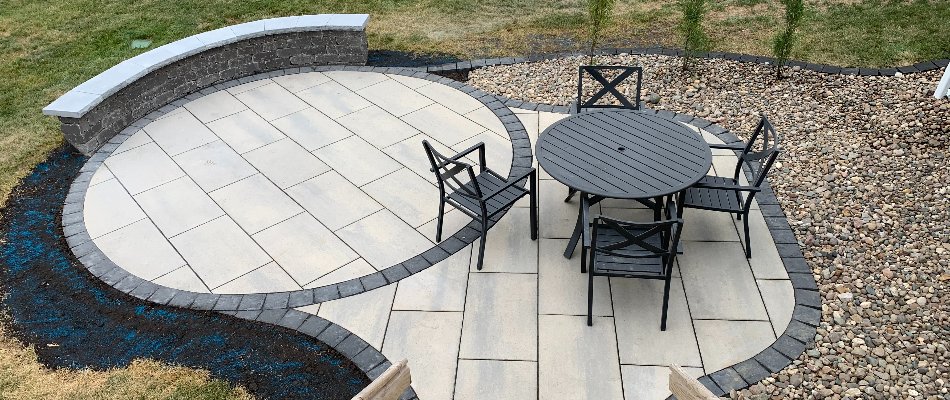 If you're looking to add a new patio to your property in Iowa, pavers are the perfect material to use. Not only are they durable and low-maintenance, but it is also easy to replace a cracked or broken one because you don't have to uproot the entire patio. Plus, pavers offer endless design options - you can choose from various shapes, colors, and sizes, and arrange them in different patterns to create a unique look that suits your style. Continue reading to learn more about why pavers are such a great material for your new patio!
---
Pavers are highly durable and long-lasting.
One of the biggest benefits of using pavers for your new patio is how durable and long-lasting they are. Pavers are highly resistant to cracks and breaks, so they'll stay beautiful and perform their intended function for years to come. They are also strong enough to withstand the elements they will be exposed to throughout the years, and only require minimal maintenance to keep them looking their best!
---
Replacing a Cracked or Broken Paver Won't Involve Uprooting Your Entire Patio
Another reason to consider using pavers for your new patio is that replacing a cracked or broken one won't involve uprooting your entire patio. If you were to go with another type of material, this would be an issue. But since pavers are modular, you can simply remove the damaged paver and install a new one in its place without disrupting anything else on your patio. This makes it much easier to repair any damage and get your outdoor space back to 100%.
---
You Can Create a Unique Look With Pavers & Arrange Them in Different Patterns
While many people think of a basic patio when they hear the word "pavers," there is far more potential than that. In fact, these materials allow you to create a truly customized look for your outdoor living space. You can choose from different shapes and sizes of pavers to suit your aesthetic preferences, and mix and match them to create a pattern that complements your goals. Some popular patterns include herringbone, running bond, stack bond, and ashlar.
With pavers, the design possibilities are endless. Whether you want a simple yet elegant design or something more complex, nothing holds you back from creating your dream patio. Here are some common paver patterns to use for your new patio:
Herringbone: The herringbone pattern involves alternating L-shaped pavers to form a zigzag pattern. It creates a symmetrical design that enhances visual interest and balance.
Running Bond: The running bond pattern consists of rows of pavers parallel to each other and staggered by half their width. It creates a clean, organized appearance.
Ashlar: Ashlar refers to large stone blocks used in architecture. In terms of patios, this pattern involves arranging pavers in rectangular shapes to create a formal and structured feel.
The herringbone pattern gets its name because it remembers the bones of a herring fish.
---
Call us today to schedule our patio installation service!
At ETCH Outdoor Living, we can install a high-quality patio using pavers, allowing you to enjoy a durable, low-maintenance hardscape that doesn't require uprooting your entire patio to replace a cracked or broken one. We also offer countless design options, from which you can create a unique look that meets your aesthetic preferences. We serve residential and commercial properties, as well as HOAs, in Ankeny, IA, and surrounding areas like Johnston and Urbandale. Let us help you achieve the patio of your dreams! Call us today at (515) 654-5447 to schedule our patio installation service! We look forward to hearing from you soon!